Work is underway from British Columbia to Quebec as dozens of engineers, automobile designers and clean energy experts build two new heavy-duty freight trucks that will hit the road between Edmonton and Calgary next year.
While they might not look any different from the dozens of other rigs on the QEII Highway at any given moment, it's what you won't see that will make them unique. There won't be any black plumes of diesel exhaust trailing behind these trucks, as they will test drive what may be the world's largest hydrogen-powered vehicle engines that will emit nothing but pure water from their tailpipes.
"We have done a number of hydrogen fuel projects, but what makes this one ground-breaking is that I don't think anyone has put this much hydrogen energy on a vehicle before, says Jeff Grant, president of Zen Energy, a Vancouver-based energy consulting and technology firm. "We want to see how this kind of zero-emissions truck works in the real-world conditions of Alberta's demanding trucking industry."
The Alberta Zero-Emissions Truck Electrification Collaboration (AZETEC) is a $15-million joint venture led by the Alberta Motor Transport Association to demonstrate that hydrogen fuel cells are up to the task of long-distance trucking. Beginning next summer, the custom built 64-tonne tractor-trailers will be added to the fleets of Bison Transport and Trimac Transportation for freight hauling between Alberta's two biggest cities. Both trucks will be outfitted with 90-kilogram fuel tanks that will enable them to make the 700-kilometre round trip without having to refuel.
Bringing the trucks to life presents a number of technical challenges for a cross-Canada team being project managed by Zen. Freightliner trucks will be powered by the latest hydrogen fuel cells from Ballard Power Systems in Burnaby, B.C. The fuel cells will be incorporated into electric drivetrains being developed by Dana/Nordresa in Laval, Quebec. The trucks will fill up with compressed hydrogen at a fueling station to be operated by Praxair at Alberta Motor Transport Association facilities in Edmonton, with high-quality hydrogen being supplied by existing industrial facilities.
"We are starting with a clean design sheet to develop something that meets the duty cycle and climate in Alberta," Grant said. "The trucking market is a great platform for hydrogen, and the main reason we've been able to get this project off the ground is because it is being driven by the industry's interest in new transportation fuels with lower carbon intensity."
The AZETEC project is part of a broader effort to leverage Canadian expertise in energy development and industrial hydrogen processing to seize opportunities from the growing global demand for hydrogen driven by efforts to reduce greenhouse gas emissions and noxious air pollution. Alberta's plentiful oil and gas supplies provide the raw material for 'blue hydrogen' – hydrogen produced by 'cracking' hydrocarbon molecules such as methane into their component parts.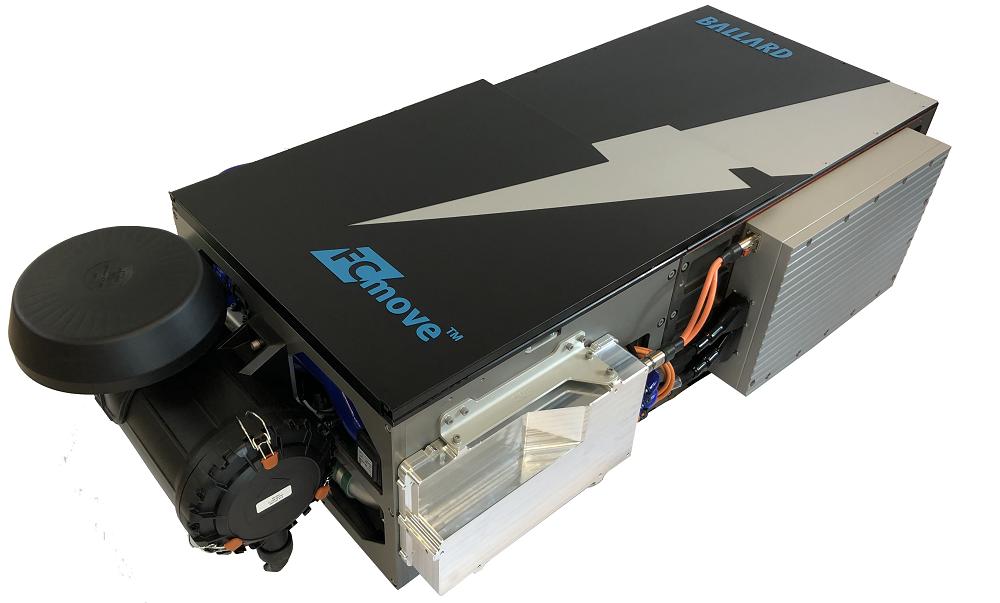 "Alberta has a huge competitive advantage, as we are already one of the world's largest hydrogen producers and we can make hydrogen for about half the cost of diesel fuel," says Dan Wicklum, President and CEO of The Transition Accelerator, a national organization launched last year to work across industry, government and academia to advance significant GHG reduction efforts. The group is leading a task force examining the potential for a hydrogen fuel industry in Alberta's Industrial Heartland region, which includes Edmonton and surrounding municipalities.
"This is ultimately a natural gas upgrading strategy, as many places around the world move quickly to adopt hydrogen as a zero-emissions fuel and a global export market is being built," Wicklum says. "We need to position ourselves to win in this changing reality."
Using existing blue hydrogen supplies primarily used in fertilizer manufacturing, Wicklum says replacing diesel with hydrogen will cut GHG emissions from trucking in Alberta by 85 per cent. Further reductions could be achieved by capturing and storing carbon dioxide related to hydrogen production through facilities such as the new Alberta Carbon Trunk Line that began operating earlier this year. Trucking accounts for 70 per cent of diesel consumption in Alberta, generating approximately 12 million tonnes of GHGs per year.
The Industrial Heartland Hydrogen Task Force is also examining the possibility of using hydrogen instead of natural gas for industrial and residential heating in the Edmonton area. The task force is planning to release an initial analysis of the opportunities for large-scale clean hydrogen production in July.
"By building on the existing knowledge and skillset of Albertans, we can attract new investment to our natural gas sector, create jobs, achieve environmental objectives, and grow Alberta's economy," says Dale Nally, Alberta's associate minister of natural gas and electricity.  "I look forward to seeing this Task Force help our province to become a competitive supplier of low-emission and affordable hydrogen for Canada and the world."
Wicklum points to Australia as a serious competitor to Canada, where the world's first hydrogen export terminal is up and running, primarily providing hydrogen sourced from coal gasification to Japan. The Australian government has invested more than $146 million in hydrogen development projects since 2015, as part of a national strategy that is expected to create thousands of jobs and generate billions of dollars in new economic activity.
"We have solved most of the technical problems with making hydrogen a viable fuel. What we need now is business model innovation to bring it up to scale," Wicklum says.