Recycling has become a way of life for many, but even the waste-conscious society will still see about a quarter of its recycled material too contaminated to be reused.
But a Montreal-based company's vision to turn waste materials like non-recyclable plastics, carpet, shoes and soiled food containers into clean fuel and chemicals may forever alter that ratio.
Enerkem's game-changing technology provides a sustainable waste management solution, which it says is complementary to recycling and composting, by manufacturing biofuels and renewable products from non-recyclable waste.
"We commercialized a technology that converts residual waste carbons — these are carbons that are typically non-recyclable or non-compostable — into fuels and chemicals," says Michel Chornet, executive vice-president of projects and operations for the company.
"We have three platforms. We have synthesis gas, which is hydrogen, and carbon monoxide. We have a methanol platform as well as an ethanol platform."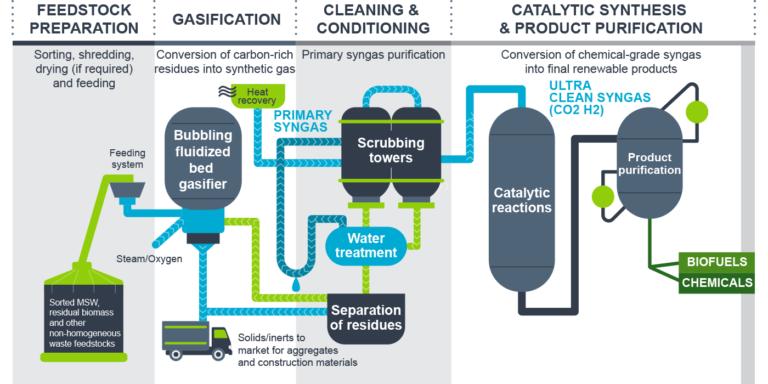 The company, which was started in 2000, also has offices in Edmonton, in Sherbrooke, Quebec, and a research and development centre in Westbury, Quebec.
Last fall, Enerkem announced the closing of a $50-million equity investment from Suncor Energy, which first participated in the ownership of Enerkem in April 2019 as part of a $76.3 million equity financing alongside Enerkem's existing shareholders.
Enerkem said Suncor also provides technical resources to support the operations of the Enerkem Alberta Biofuels (EAB) plant located in Edmonton, which is the first commercial-scale plant in the world to turn non-recyclable, non-compostable mixed municipal solid waste into cellulosic ethanol, a popular biofuel.
"In Edmonton we have about one-fourth of our workforce and over the years we've developed a lot of know-how by operating this plant and de-bottlenecking and ramping up production," says Chornet.
"In Edmonton, essentially we take residual materials from the City of Edmonton and we convert into biofuels."
Chornet says disruptive technologies of Enerkem's scale have typically cycles of development of 15 or 20 years or perhaps a bit more. He says Suncor is looking at alternatives or pathways to reduce their carbon intensity.
"This investment complements Suncor's existing biofuels business, demonstrates our commitment to deliver low-carbon fuels to Canadian drivers and is another tangible example of the work we're doing to help lower emissions and transform the energy system," said Mark Little, president and chief executive officer, Suncor, also at the time of the announcement. "Together with other investments in clean technology, our relationship with Enerkem helps position Suncor to be a leader in the developing low-carbon economy."
Enerkem Alberta Biofuels is the world's first commercial biorefinery to use municipal solid waste to produce methanol and ethanol.
The facility in northeast Edmonton is the result of more than 10 years of efforts to scale up Enerkem's technology from pilot and demonstration, to full commercial scale, the company says.
With Enerkem's proprietary technology, the Edmonton plant has the capacity to convert 100,000 tonnes of municipal solid waste into 38 million litres of biofuel annually. According to the City of Edmonton, waste-based biofuels can reduce greenhouse gas emissions by more than 60 per cent compared to fossil fuel production and landfill operations.
When the plant began operations in 2014, it was only able to produce methanol, but with new processes installed in 2017, it's able to produce ethanol as well.
In 2016, Enerkem's facility in Edmonton became the first ISCC (International Sustainability and Carbon Certification) certified plant in the world to convert municipal solid waste into biomethanol.