The $6.6-billion Coastal GasLink pipeline, which received an investment boost on Boxing Day, will create an estimated $1 billion in employment and contracting opportunities for local and indigenous communities, while becoming a potential catalyst to reducing global greenhouse gas emissions.
The planned 670-kilometre provincially regulated pipeline has received support from all 20 elected First Nations bands along the winding route from the Dawson Creek area to Kitimat.
In a deal announced the day after Christmas by TC Energy, the Calgary-based company said it agreed to sell a 65 per cent share to global investment firm KKR & Co. as well as Alberta's public pension manager AIMCo (Alberta Investment Management Corporation) on behalf of some of its clients.
Terms of the agreement were not disclosed.
Dale Swampy, head of the National Coalition of Chiefs, said the GasLink project is the kind of opportunity that makes sense to Indigenous people.
"We are not anti-pipeline or anti oil and gas, we are in favour of development that respects the environment," said Swampy, a member of the Samson Cree Nation.
"Projects need to be done in a way where consultation with Indigenous people is the starting point and is sustained throughout.
"This is a way for our people to lift themselves up from poverty, to benefit from development through the right kind of opportunity."
The National Coalition of Chiefs is backing Indigenous groups seeking an ownership stake in the Trans Mountain Expansion Project, known as TMX.
The NCC also launched an Indigenous Strong program to bring together the roughly 12,000 Indigenous workers in oil and gas to show solidarity and support for the industry.
In a statement, Brandon Freiman, member and head of North American infrastructure at KKR, said once it's complete, the project will be a key driver in reducing global greenhouse gas emissions.
"We are excited to partner with TC Energy, a world class infrastructure developer, on this critical project," he said.
"Coastal GasLink represents our third investment in infrastructure supporting Canada's natural gas industry. We believe the export of Canadian natural gas to global markets will deliver significant benefits for the Canadian economy and local communities in Western Canada, and enable meaningful progress toward reducing global emissions."
KKR said its investment in Coastal GasLink is being made in partnership with the National Pension Service of Korea.
The pipeline is expected to be in operation by 2023.
TC Energy president and CEO Russ Girling said the partnership will ensure the vital pipeline project, which began construction in early 2019, will keep moving forward.
"We look forward to establishing a long-term relationship with KKR and AIMCo as we advance this critical energy infrastructure project," he said in a statement.
"We remain fully committed to the Project and will continue to construct, deliver and operate the pipeline on behalf of the partnership."
Under the agreement, TC Energy will continue to hold a 35 per cent limited partnership in the pipeline project and will be contracted to construct and operate the pipeline. Meanwhile, a syndicate of banks is now expected to set up a secured project financing construction credit facility to fund up to 80 per cent of the project's costs, the company said.
Following the sale, TC Energy said it will provide its 20 partner First Nations an option to acquire a 10 per cent equity interest in the pipeline.
As of early December, some 24 per cent of the route has been cleared for construction, employing some 1,100 workers. Approximately 390,000 tonnes of pipe is required for the project, some of which is being transported by ship, rail and storage sites in anticipation with construction ramping up in early 2020.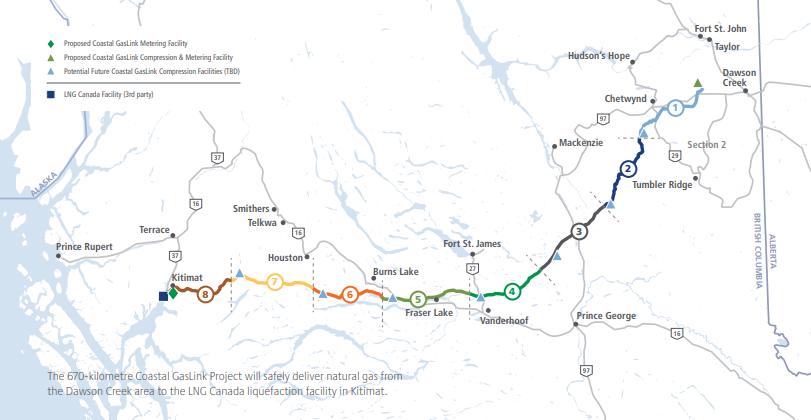 Once the pipeline is completed, it is expected to have an initial capacity of 2.1 billion cubic feet per day, connecting an abundant natural gas supply in the Western Canadian Sedimentary Basin to the $18-billion coastal export terminal in Kitimat, which expects to make its first LNG shipments to global customers in 2025, primarily in Asia.
Many Asian countries continue to rely on greenhouse gas intensive coal for their energy needs and Canadian natural gas is considered by many to be a critical resource to help curb the global reliance on coal, which accounts for some 40 per cent of global carbon dioxide emissions.
LNG Canada estimates by displacing coal and diesel-fueled generation with cleaner burning natural gas could reduce global greenhouse gas emissions by 60 to 90 million tonnes per year, the equivalent to mothballing 20 to 40 coal plants, or about 10 per cent of Canada's annual emissions.
In a court case slated for early 2020, hereditary house chiefs with the Office of the Wet'suwet'en in Smithers, B.C. are seeking to halt the project, saying part of the route infringes on unceded traditional territory and could disrupt archeological and cultural sites in one region.