Coastal GasLink isn't your everyday pipeline. Once operational it will change Canada's position in global energy markets, providing jobs and government revenues at home while helping decrease global greenhouse gas (GHG) emissions over the long term.
That's because Coastal GasLink will deliver natural gas produced in northeast B.C. to the LNG Canada terminal under construction on the coast at Kitimat, where it will be supercooled, liquefied and exported by tanker to Asian markets.
LNG Canada's owners estimate that, if used to displace coal power in China, the B.C. natural gas delivered by Coastal GasLink could ultimately reduce GHG emissions by the equivalent of shutting down 20 to 40 coal-fired plants. Shell, the lead owner of LNG Canada, views LNG "as a partner for renewable sources" into the future.
Primarily because of its growing use in Asia as cleaner, more reliable energy, LNG is a booming global industry. According to energy analysts at Sproule, worldwide LNG trade volumes grew by a record 40 million tonnes per year in 2019, to an annual total of approximately 360 million tonnes. This was led by new projects on the U.S. Gulf Coast, says Sproule senior associate Liam O'Brien.
LNG demand is expected to double to 700 million tonnes annually by 2040 "as natural gas plays a growing role in shaping a lower-carbon energy system." LNG Canada is part of a wave of new projects scheduled to start up in the mid-2020s, corresponding with an expected supply shortage as demand exceeds operating capacity.
At 14 million tonnes per year, the first phase of LNG Canada is relatively small – consider that the United States expects its LNG plants to ramp up to 77 million tonnes per year by the end of 2020 – but it's very important for Canada, says energy consultant Greg Stringham.
"It's a big project. It's Canada's first, and it is actually a great time for us to connect to the Asian market and show that we can actually do this," he says.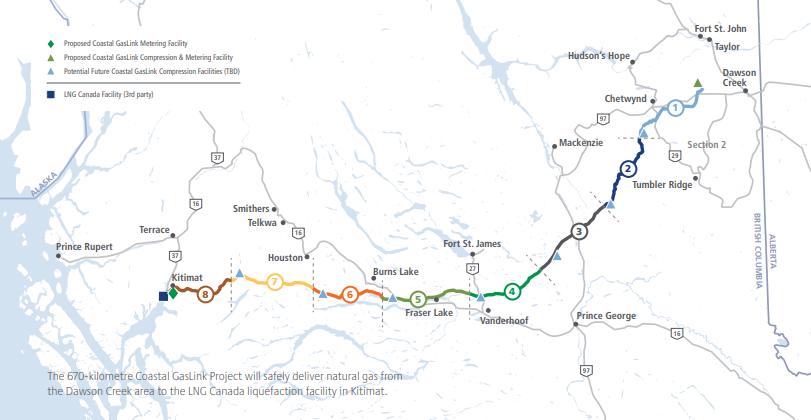 LNG Canada will have the opportunity to prove out multiple expected benefits for its targeted customers in Asia, Stringham says, including shorter shipping times, lower costs and, perhaps most significantly, lower GHG emissions than LNG from other jurisdictions.
Sproule estimates the supply cost of Canadian LNG to Asia to be as much as 42 per cent lower than projects in Western Australia and 23 per cent lower than projects on the U.S. Gulf Coast.
Fueled by renewable hydropower, LNG Canada is expected to have GHG emissions intensity of 0.15 tonnes of CO2 equivalent per tonne of LNG, well below the global average of 0.26 to 0.35 tonnes of CO2 equivalent.
Future LNG facilities proposed in Canada are expected to go even lower – for example, Woodfibre LNG and Kitimat LNG are expected to have intensity of approximately 0.06 to 0.08 tonnes of CO2 equivalent.
"If we have the lowest cost delivered into Asia for LNG, and most importantly, if we have the lowest CO2 per unit output of LNG – in other words, it is the cheapest and the cleanest – we'll be the last supplier that they'll turn off as they get to the point of ramping down sometime 50 years from now," Stringham says.
As Shell says in its LNG Outlook 2020, "gas is a fuel for today and tomorrow." For Canada, that starts in earnest with Coastal GasLink and the LNG Canada terminal.