Every day Phil Tait Jr. gets into his truck to go to work on B.C.'s Coastal GasLink pipeline project, he feels like he's won the lottery.
Tait is a member of the Witset First Nation, located 30 kilometres northwest of Smithers, B.C., and the 52-year-old father of four says he has spent most of his adult life chasing work opportunities in the northern part of the province.
From working in Prince Rupert as a fisherman to a significant period working in the forestry industry, Tait has been able to make a living thanks to B.C.'s abundant natural resources.
But with many of those opportunities evaporating, the 670-kilometre natural gas pipeline project has allowed Tait, and other Indigenous workers like him, to thrive.
"Both the forestry and fishing industries are dying in British Columbia, and Coastal GasLink presents the entire region with an opportunity for prosperity," says Tait, a heavy equipment operator who works for CGL contractor Kyah Resources, a Witset First Nation company.
Coastal GasLink has been working with all Indigenous and local communities along the route since 2012.  The company has estimated that $1 Billion in employment and contract opportunities are available for Indigenous and local communities with, to date, over $825 million in contracts being awarded to Indigenous and local companies.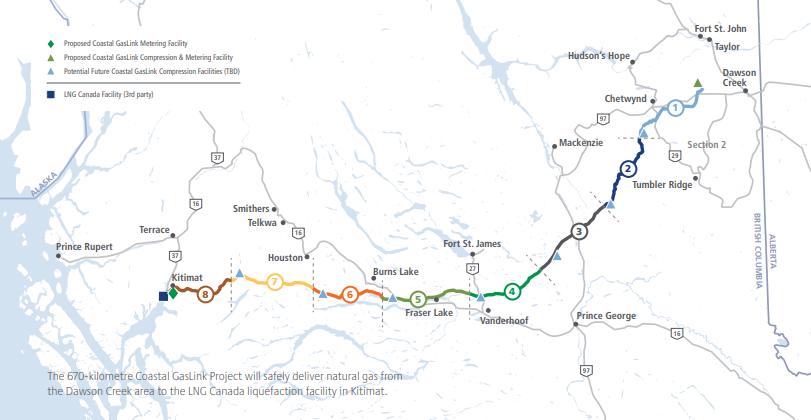 After his tour on Coastal GasLink, Tait believes he will be able to work on any project in B.C. given the high standards and training mandated by the company to protect the environment and construct this pipeline in a responsible manner.
Tait says those who have been vocal in their opposition to the project could learn a thing or two about respecting the natural environment by those who not only work on the pipeline but have spent their lives being genuine stewards of the region.
"A lot of garbage was left behind with the protests which, if it was done by any worker on the project, would have been fired on the spot," he says when highlighting the hypocrisy of the environmental protesters that camped out in Wet'suwet'en territory over the winter to vent their opposition to the project, which has signed benefit agreements will all 20 First Nations along its route.
Tait is an outspoken supporter of Coastal GasLink, grateful for what the project has already given him and his family in terms of industry-specific training and experience.
"How are we supposed to be heard if we don't speak up – I've had enough of being quiet," he says.
Tait acknowledges that projects like this are temporary opportunities, but he's proud to feel like he is a part of something bigger than himself.
"There's a sense of pride in building one of the largest projects in the world right now," says Tait of the estimated $40-billion project, which includes both the Coastal GasLink pipeline and the LNG Canada terminal, whose construction is well underway in Haisla territory in Kitimat.
Tait, whose children range in age from 20 to 30, have followed their own paths to education and employment, but he says his youngest child has pursued her own opportunity with Coastal GasLink by securing her site security ticket.
This windfall of opportunity, he says, has allowed him to provide for not only his children, but his parents, who are community elders, as well. This past winter he was able to provide pellets for burning fuel to his parents for the entire winter.
As well, thanks to his generous compensation Tait receives from his work on Coastal GasLink, he has been able to take his family to both California and Las Vegas and experience the world outside of Northern British Columbia for the first time in his life.
Not only does Tait celebrate the opportunity that Coastal GasLink provides for his family, but he also recognizes how important this project is for the entire province and economy as Canada begins to recover from the COVID-19 pandemic.
"The way the economy is going, projects like Coastal GasLink can help save our communities, our government, and province," says Tait.
With so much uncertainty in the nation's economy, Tait sees how Coastal GasLink and LNG Canada will help preserve the standard of living not only in B.C., but Canada as well given the project's potential to open the nation's abundant resources to a global marketplace while adding a significant amount to the tax base.
"We have to pay for all the public services somehow and the money has to come from somewhere, and the amount of taxes paid by these projects is a great start," he says.
As for those who believe the project should be shut down, he responds with a simple retort: "Where are the jobs if Coastal GasLink is shut down?"
To which, Tait says, he has yet to hear a good response.