The effort to produce cleaner oil and position Canada as one of the world's most responsible energy suppliers continues to gain momentum, as one of the country's biggest oil sands companies announced ambitious goals to neutralize its carbon footprint while boosting partnerships with Indigenous businesses, decreasing water use and ramping up land reclamation in northern Alberta.
Cenovus Energy announced new performance targets on Jan. 9 that will guide how the company manages key environmental, social and governance (ESG) issues over the next decade.
Cenovus's ESG plan is the latest example of how Canadian oil and gas companies are aligning their business plans to try and remain competitive in the international energy market for the long-term significantly improving their public disclosure on ESG issues.
"ESG investing has become a much higher priority than in the past, and it is encouraging to see the progress in the careful and robust way Canadian companies are analyzing and disclosing their ESG performance," said Jeremy McCrea, director of oil and gas equity research for the investment firm Raymond James Ltd.
Already considered a leader in many aspects of sustainable development, the country's fourth-largest oil sands producer now has GHG emissions reduction targets that are among the most ambitious in the world for an upstream exploration and production company – reducing per-barrel GHG emissions by 30 per cent and holding absolute emissions flat by the end of 2030.
Cenovus also says it will work toward achieving net-zero emissions by 2050 through its continued focus on innovation and energy efficiency. Cenovus has already reduced per-barrel GHG emissions by approximately 30 per cent over the past 15 years.
"Our environmental practices, low-emissions oil sands operations and the relationships we've built with residents in areas where we operate – including Indigenous communities – demonstrate our commitment to sustainability leadership," said Alex Pourbaix, president and CEO of Cenovus. "The meaningful targets we're announcing today build on our achievements to date and position us to thrive in the transition to a lower-carbon future. I'm confident we have the right business model and talent in place to achieve them."
The new targets come after Cenovus identified four focus areas for its ESG-related activities last year. In addition to GHG emissions, the company is also planning to spend at least an additional $1.5 billion with Indigenous businesses by 2030; reclaim 1,500 decommissioned well sites and voluntarily complete $40 million of land restoration in caribou habitat affected by its activities; and further reduce its use of fresh water for oil production.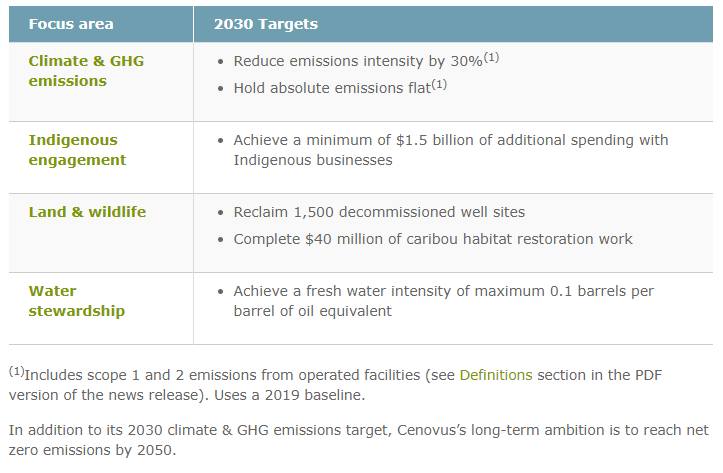 "These new targets are real, tangible and quantifiable over the next five and 10 years – which truly makes them an industry leader," said Jon Morrison, executive director of CIBC Capital Markets' research team for the oil industry. "Employee compensation is also being linked to the achievement of these targets, which reiterates the rank that is being placed on these goals within the organization."
Cenovus's GHG targets align with the goals of other large oil sands operators that have made similar pledges in recent years in response to investor concerns about fossil fuels' contributions to climate change. Suncor has set a target to reduce its GHG intensity by 30 per cent compared to 2014 by 2030, while MEG Energy and Canadian Natural Resources, the country's largest oil producer, have both set long-term aspirational targets of achieving net-zero emissions. Meanwhile, Vancouver-based mining giant Teck Resources Ltd. Is proposing a new oil sand mining project, Frontier, whose oil would have a GHG emissions intensity of about one-half of the oil sands industry average and lower than about half of the oil currently refined in the United States. The federal government is expected to decide by Feb. 28 whether it can move forward.
GHG emissions from Canada's upstream oil production account for approximately 0.16 per cent of global emissions. While overall GHG emissions from oil sands operations have been climbing since 2000 as production has steadily increased, emissions per-barrel of oil decreased 28 per cent between 2000 and 2017. Many of the newer and more advanced oil sands facilities, including Cenovus's, have emissions intensity levels that are comparable to the average barrel refined in the United States.
New York-based Phil Skolnick, managing director of energy research for Eight Capital, said Canada's reputation for responsible development is becoming more important for international investors and energy customers, which will benefit the country over the long term.
"Demand for petrochemicals is on the rise in places like Asia and the Middle East, which require medium and heavy oil, and refiners on the U.S. Gulf Coast are being more scrutinized on where they are getting their heavy oil from," Skolnick said. "When it comes to heavy oil, Canadian barrels are definitely more ESG friendly than the ones imported from other countries."