In a quiet corner of southeast Saskatchewan, a Canadian oil and gas company is achieving greenhouse gas emission reductions that are meaningful on a global scale.
That company is Whitecap Resources, the current majority owner and operator of the Weyburn Unit. It's one of the largest and longest-running carbon capture and storage (CCS) projects in the world, and because of it, Whitecap removes more emissions from the environment than it produces.
"We were net negative by almost 600,000 tonnes of carbon dioxide equivalent in 2019," Whitecap CEO Grant Fagerheim wrote in the company's 2020 environmental, social and governance report.
The International Brotherhood of Boilermakers calls CCS "the climate change solution that no one is talking about." But Canada's oil and gas industry has been talking about — and succeeding with — CCS for more than two decades, including new major milestones this spring.
In May, Shell announced that its Quest CCS project near Edmonton is exceeding storage targets at a lower cost than expected. In June, the world's newest CCS project, the Alberta Carbon Trunk Line (ACTL), came online.
Carbon Capture and Storage
In CCS, carbon dioxide and other gases are captured from industrial processes, transported via pipeline and injected deep underground for permanent storage. Often, as is the case for Weyburn and ACTL, the captured gases are injected into mature oil reservoirs and used to free trapped resources that would have otherwise not been recovered. Adding the saleable product of oil to a CCS project turns it into what's called carbon capture, utilization and storage (CCUS).
CCS/CCUS is considered a key emissions reduction technology. Research at Weyburn led by the International Energy Agency indicated that after enhanced oil recovery operations are completed, over 98 per cent of the CO2 will remain trapped in the reservoir after 5,000 years.
The implementation of CCS has helped reduce the overall GHG emissions intensity of Canadian oil production, according to Environment and Climate Change Canada.
Click here for a comprehensive new report by CEC Research about Canada's GHG emissions intensity.
CCS By The Numbers
According to the Global CCS Institute, there are currently 21 large-scale CCS facilities operating globally. In total, the world's operating projects have capacity to capture approximately 39 million tonnes of CO2 equivalent per year, or the equivalent of removing the emissions from 8.4 million cars off the road annually.
The Global CCS Institute reports that, including the oil sands refinery and fertilizer plant connected to the new ACTL project, carbon capture facilities in Canada now have capacity of approximately 3.5 million tonnes of CO2 equivalent per year. That's the equivalent of capturing the emissions of about 750,000 passenger vehicles annually.
That figure does not include all CO2 that ends up being stored at Weyburn, since it also receives CO2 volumes that are captured at a synthetic fuels plant in North Dakota. Whitecap says more than 34 million tonnes of CO2 equivalent has been stored at Weyburn since 2000, or the equivalent of taking about 7 million cars off the road for one year.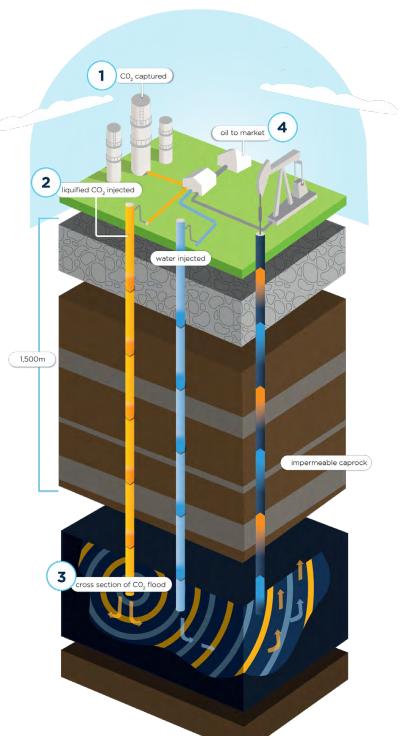 "As a climate mitigation tool, CCS is gaining momentum, with North America leading the pack in accelerated deployment," says Jeff Erikson, general manager of client engagement with the Global CCS Institute. Canada's efforts are second in the world only to the US, he says.
Early adopter
With Weyburn starting up in 2000, Canada was an early adopter of CCS technology. This was followed by the Boundary Dam project in Saskatchewan in 2014, Quest in 2015 and ACTL in 2020. All of these projects have received funding support from the federal and provincial governments.
The lessons from Canadian CCS operations are valued by project developers globally, Erikson says.
"Canada is one of only eight countries to have fully operational large-scale facilities. This exemplifies an early commitment to tackling climate change comprehensively, taking heavy industry into account," he says.
"Knowledge sharing from Canadian CCS facilities has helped – and will continue to help – other CCS project developers by improving their operations and reducing their costs."
This June, when Shell announced that the Quest CCS project in Alberta achieved five million tonnes of CO2 captured and stored ahead of schedule at a 35 per cent lower cost than expected, the company also said that success at Quest contributed to its decision to proceed with another CCS project in Norway.
Shell, together with partners Total and Equinor, took a final investment decision on the Northern Lights CCS project in Norway in May 2020.
"Northern Lights has incorporated lessons from Quest, which has been sharing knowledge and lessons learned over the last five years to encourage more widespread implementation of CCS," the company said in a statement.