Saskatchewan First Nation Chief Alvin Francis admits he's an incurable optimist. 
So even after Natural Law Energy (NLE), a coalition of Saskatchewan and Alberta First Nations, announced they would be pursing compensation for US President Joe Biden's Inauguration Day cancellation of the Keystone XL pipeline project, Francis remains hopeful that a reasonable path forward can still be found. 
"I never give up on anything – there's always hope," says Francis, chief of the Nekaneet First Nation and president of Natural Law, which in the fall of 2020 entered into a $1 billion equity agreement for a 12 per cent stake of TC Energy's Keystone XL pipeline project. 
"This is a reminder to President Biden of what he has done to First Nations here in Canada. A reminder of 'why are you going to OPEC' when meanwhile his neighbour to the north has the same production? 
"Why aren't you including us as First Nations to be part of the commodity world?" 
NLE is seeking compensation for its lost investment under the United States–Mexico–Canada Agreement. 
The journey from the kernels of an idea to a grand strategy to secure generations of economic prosperity for a collection of Indigenous communities was a deliberate one that clung tightly to the traditions of the Western Turtle Island (how some Indigenous people refer to North America) Nations that make up NLE – Nekaneet, the Ermineskin Cree, Montana, Saddle Lake Cree and Louis Bull Tribe. 
That process involved three years of traditional meetings, ceremonies and gatherings across the traditional territories of Treaties No. 4, No. 6 and No. 7. Through that process, a Treaty alliance was formed with an eye toward responsible resource development and economic reconciliation for the coalition partners.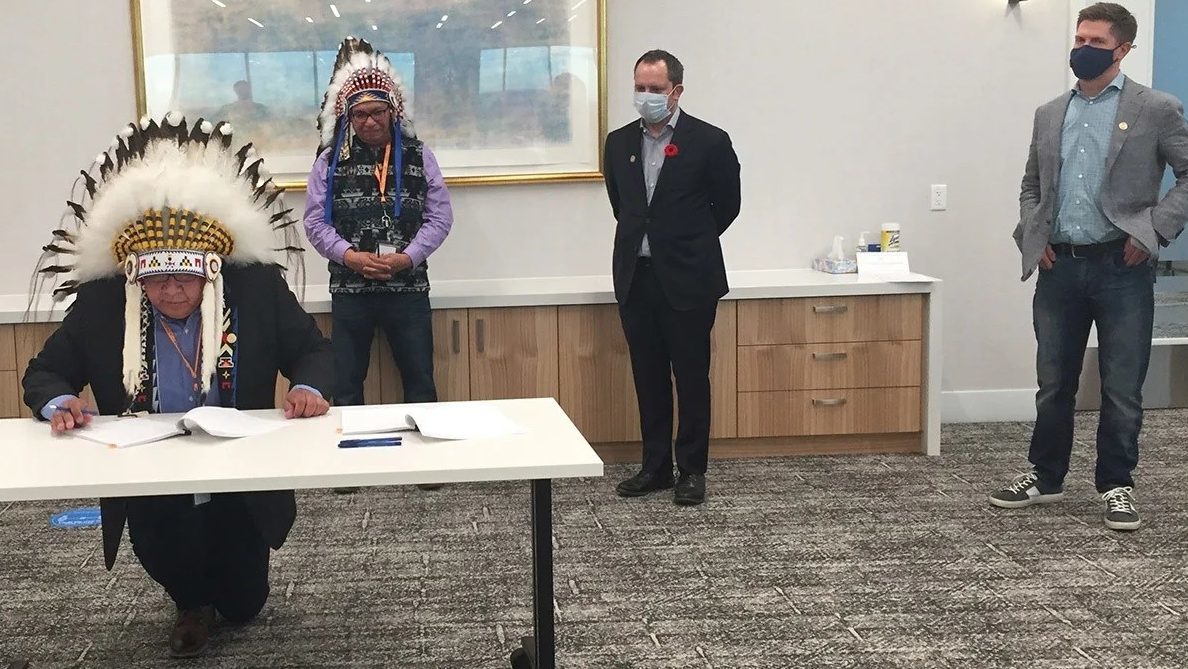 Francis says Indigenous people have always been closely connected to the resources on and under their land – they just have rarely been able to fully benefit from those natural riches. 
"The stories I have from my ancestors and my grandfathers is we have never given up on our commodities," he says. 
"Whatever comes out of Mother Earth, we still claim that and we want to participate in the world of economic growth. 
"It's exactly the way our ancestors did it when they signed the treaties. We believed if we banded together in faith, we would make it possible." 
First Nations have in recent years began to actively pursue partnerships or outright ownership of major Canadian energy projects. 
NLE is one of three Indigenous-led groups pursuing ownership stakes in the Trans Mountain pipeline while two First Nations are partnering on separate LNG projects in B.C. A partnership between the B.C.-based First Nations Major Projects Coalition and the Miawpukek First Nation on Canada's East Coast are working together on the first Indigenous equity participation in an Atlantic offshore project, called LNG Newfoundland and Labrador.  
In addition to the potential ownership stake for NLE, Keystone XL had invested $1.6 million directly and another $16.6 million indirectly with Native American businesses and suppliers in the US. On the Canadian side, some $15.5 million in direct investment and another $21.7 in indirect spending supported Canadian First Nations contractors as of September, 2020. 
On Biden's first day in office, he signed an executive order cancelling approval for the $8 billion project, on the grounds that it would worsen climate change. 
Since the pipeline's cancellation, demand for oil surged in the US, prompting repeated pleas from the U.S. to OPEC+ nations like Saudi Arabia and Russia to increase oil production to help lower U.S. gasoline prices. Those requests have largely been ignored. 
For Francis, there is a simple answer that will not only boost North America's energy security but also support responsible production of critical energy resources while creating a strong economic legacy for his grandchildren and generations of First Nations youth to come. 
"It was unfair for (Biden) to make that choice on behalf of the American people and then go and ask the world for more production," Francis says. 
"We want to start to change the way we're looked at and we want economic prosperity also. We need that prosperity so we can be on equal terms." 
TC Energy is pursing over $15 Billion in compensation from the U.S. government for the KXL cancellation through a legacy claim under NAFTA. The province of Alberta also announced it will similarly seek redress for its own $1.3 billion investment in the pipeline project. 
The unaltered reproduction of this content is free of charge with attribution to Canadian Energy Centre Ltd.