The chief councillor of the Haisla Nation is excited about the future of liquefied natural gas (LNG) development in the nation's traditional territory, because she's already watching the good it can do.
Crystal Smith says she has seen a transformation in her community because of its relationship with the LNG Canada project, which is well into its third year of construction at Kitimat, B.C.
The project has brought the Haisla Nation employment opportunities and the ability to invest in social programming as well as a new apartment complex and a new health centre that for the first time includes space for traditional healing.
"The community has seen and felt the impacts in terms of employment opportunities, in terms of training and capacity. Our vision as a community is to build a strong, independent, proud Nation and to do that we need independent members. I see the differences in our members today of that improved quality of life," Smith says.
And that's just with the nation as a supporting player for LNG Canada – what's coming next for the Haisla community could be much bigger. They are approximately 50 per cent owners in the proposed Cedar LNG project, which if built will be the largest First Nations-owned infrastructure project in Canada.
"The difference between Cedar and any other project is the huge equity piece and that ownership. I believe it's what every First Nation in this country strives for – if not the world strives for," Smith says.
"It will bring tremendous economic opportunities and benefits, ensuring the Haisla people have control of our own future."
Cedar LNG is one of two proposed projects in B.C. with Indigenous ownership. The other, Ksi Lisims LNG, is owned jointly by the Nisga'a Nation, Rockies LNG and Western LNG.
While the Ksi Lisims project is considering two pipeline options, the pipeline for Cedar LNG is already under construction. Thanks to an agreement with LNG Canada, the Haisla Nation has ability to use capacity on the project's Coastal GasLink pipeline.
"Our economic development department have worked hard to secure that capacity to maximize benefits for the Haisla territory," Smith said in November 2020.
Cedar LNG got a push forward this June with Pembina Pipeline Corporation acquiring the remaining 50 per cent interest in the $2.4-billion project. The company expects to invest about US$90 million in the project over the next two years as it progresses toward a final investment decision in 2023.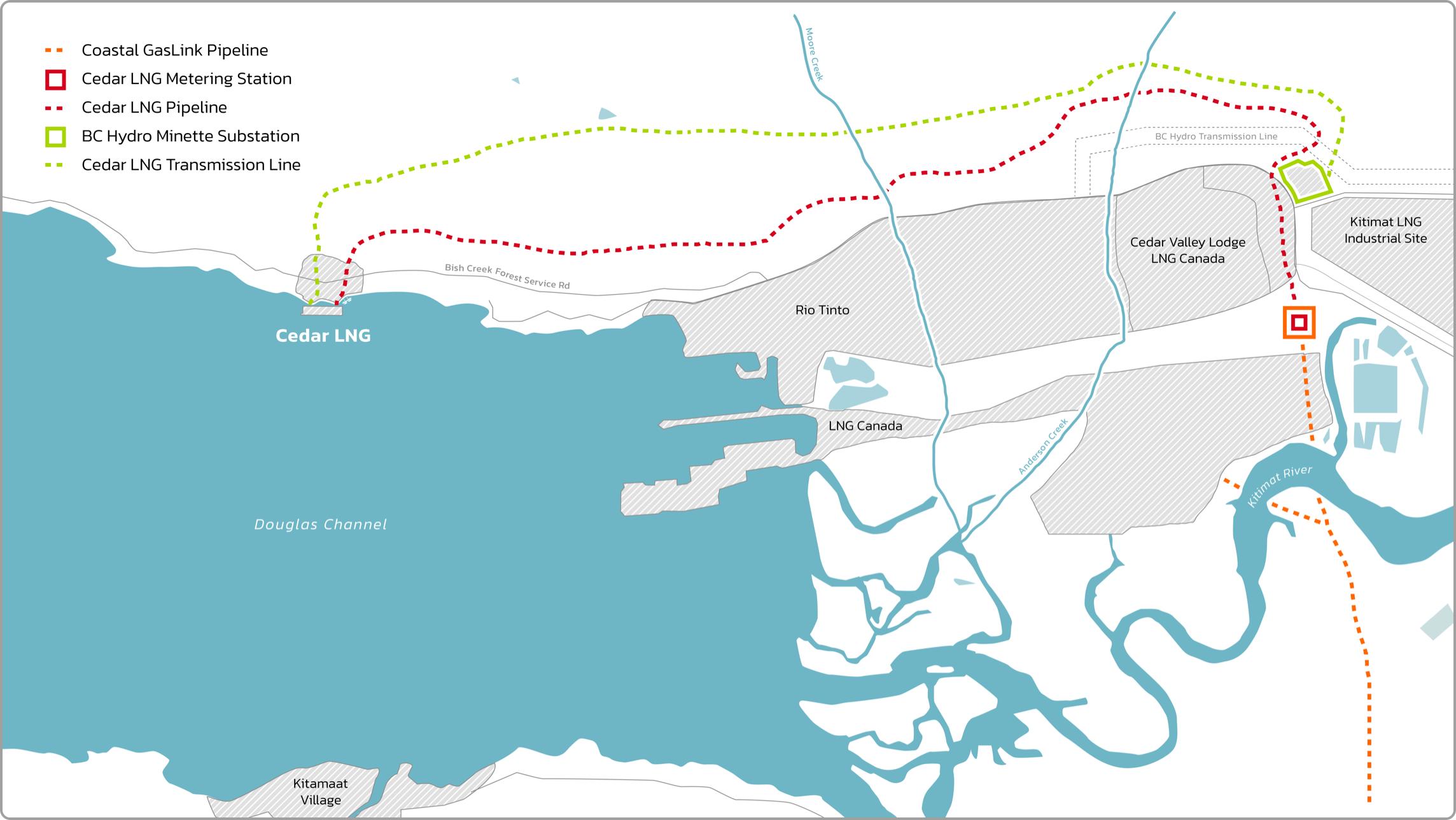 Cedar would be a floating LNG project located in the Douglas Channel, one of the principal shipping routes on the British Columbia coast.
Officials say it is strategically positioned to leverage Canada's abundant natural gas supply and British Columbia's growing LNG infrastructure to produce industry-leading low‑carbon, low-cost Canadian LNG primarily to the Asia-Pacific market.
Exporting natural gas from Canada as LNG for use in power generation instead of coal in China is expected to result in emissions reductions of 34 to 62 per cent, according to a June 2020 study published in the Journal for Cleaner Production.
About two hours north of the Cedar project, near the Alaska border, the Nisga'a Nation is proposing the $10-billion Ksi Lisims LNG facility. The project is designed as a floating facility on the northern tip of Pearse Island.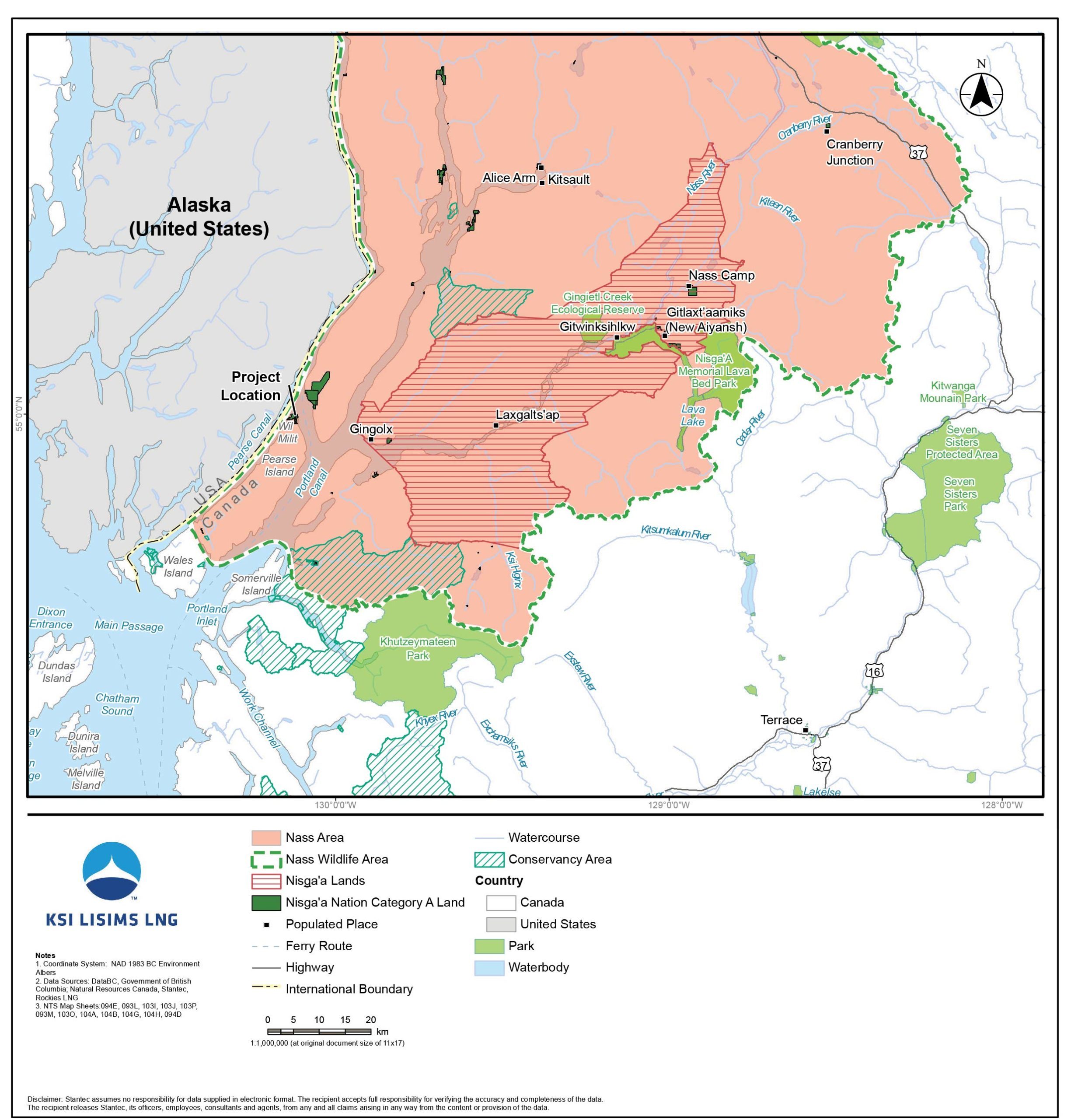 The Nisga'a Nation has been working to attract an LNG project to its lands for close to a decade, president Eva Clayton said in a statement.
Ksi Lisims LNG filed its initial project description with provincial and federal regulators in July.
LNG is an increasingly sought-after commodity globally, driven by growing demand in emerging economies looking to improve quality of life with lower-carbon energy sources compared to options like coal-fired power.
Global LNG demand is expected to nearly double by 2040 to 700 million tonnes per year, according to Shell's latest forecast. But the company also anticipates that by the mid-2020s a gap will emerge between available supply and increasing demand.
Both Cedar LNG and Ksi Lisims LNG could help fill that gap, with Cedar planned for start-up in 2027 and Ksi Lisims in late 2027 or 2028.
The unaltered reproduction of this content is free of charge with attribution to Canadian Energy Centre Ltd.