Longtime Alberta artist Shannon Carla King paints beautiful landscapes with a twist – they are of spaces in the oil sands that have been reclaimed by producing companies or created by operators to protect the environment.
Three of King's paintings were featured at the Federation Gallery on Vancouver's Granville Island this October as part of an environmental issues focused-exhibition called CRISIS, which collected donations for the David Suzuki Foundation. The counter-message may have been a surprise for some viewers.
Amid titles like Armageddon, Plastic Ocean and Where On Earth Are We Going are the works, called Fort Hills Settling Pond 2, No Net Loss Lake and Wapisiw Lookout.
"I'm hoping it will catch some people off guard," says King, who grew up on a farm near Drayton Valley, Alberta and has worked in oil and gas for over 30 years, since her first job at 13 prepping and painting metal in her father's welding shop.
"I wanted to create a conversation where people focus on the great things that the oil and gas industry is doing and our country's high environmental standards. It may not change their mind, but if I can get them to just pause for one moment and challenge their perspective, that's a win for me."
The Federation of Canadian Artists, which runs the Federation Gallery and juried the exhibition, asked member artists to submit work "that directly tackles the problematic and sometimes uncomfortable truths that our current behaviours and sometimes inaction can cause."
One of the jurors for the exhibit, Susan Taylor, says it was particularly timely "as evidence of climate change and disruption and environmental degradation mounts." She says she was happy that King's work was accepted as part of the show.
King says a unique aspect of her paintings is that scannable QR codes were displayed so viewers could use their phone to access online content that describes the image.
About the painting Wapisiw Lookout, they would have learned that in 2010 Suncor Energy became the first oil sands operator to successfully reclaim a tailings pond to a solid surface. This 220-hectare site is now growing into mixed wood forest and small wetland.
Fort Hills Settling Pond 2 shows one of a number of water basins established at Suncor's Fort Hills oil sands mine to remove sediments from site water runoff and provide a regulated monitoring space before returning the water to nature.
Finally, in No Net Loss Lake, King painted a water body that was constructed to compensate for changes to fish habitat as a result of the Fort Hills project.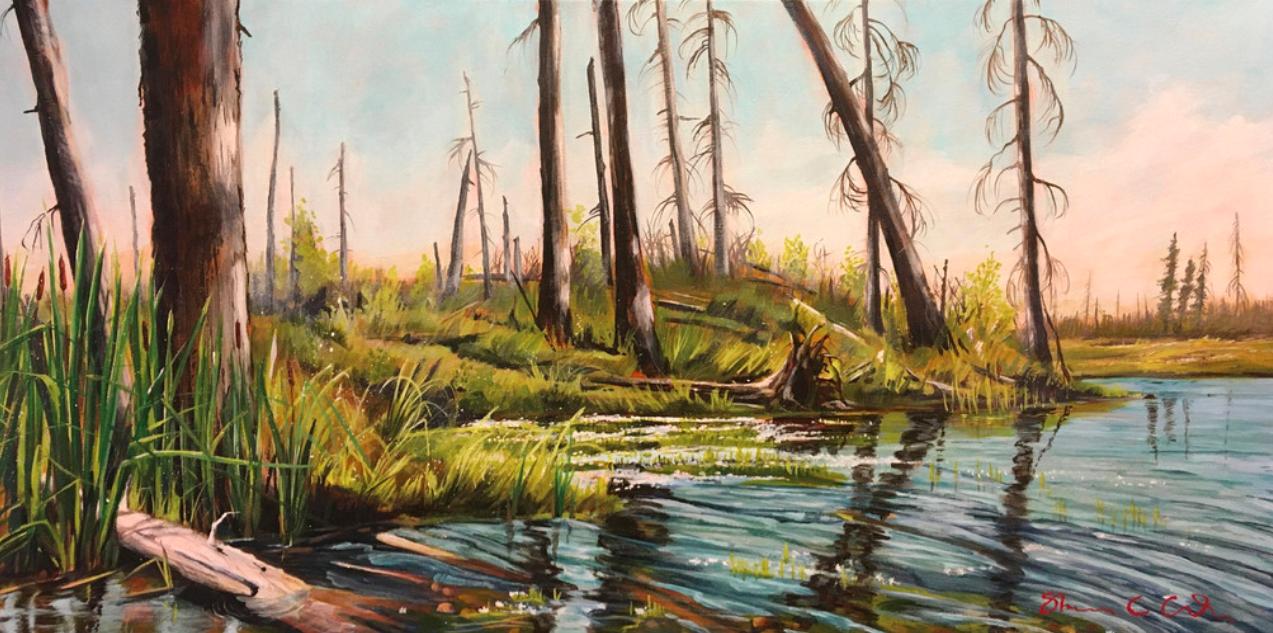 "The reclaimed lands, when you see photos of them or if you're lucky enough to be there in person, are stunning. Innovation, years of research, dedicated funding and consulting with Indigenous communities make these projects sustainable for future generations. It's humbling to try to put all that into a painting," says King, who created the pieces while in COVID lockdown this summer.
Art itself is enabled by oil and gas, she says, and the CRISIS pieces have renewed her sense of purpose as an artist.
"The brushes, the oil paints, the acrylic paints, they are made from acrylic polymers and acrylic plastic resins. They're petroleum products. So, it really means that I've been a producer, a consumer, a creator and a champion of Canadian oil and gas for my entire life. I feel like this is my calling. This is the industry that supported my family and my community growing up, [and] how I'm employed today, which enables me to paint. It is my new mission to share reclamation stories through art."