Tom Jackson has watched his small northern Alberta First Nation evolve into a community with a growing economy thanks to abiding relationships with the energy industry.
Jackson, who lives on the Goodfish/Whitefish Lake First Nation, is CEO of the Goodfish Lake Business Corporation, which is 100 per cent-owned by the band some 200 kilometres northeast of Edmonton.
Even amid a global pandemic, the community has seized on economic opportunities, and Jackson is deeply aware how important those partnerships forged with oil and gas companies have been to his nation's success.
"Syncrude and Suncor have been incredible partners for our nation for over thirty years and has benefited nearly every single one of our members," says Jackson.
The Indigenous business leader reflects on how much has changed for the community since he left in the late 1970s, and takes pride that he has been able to come back to the reserve to help carve out a prosperous future.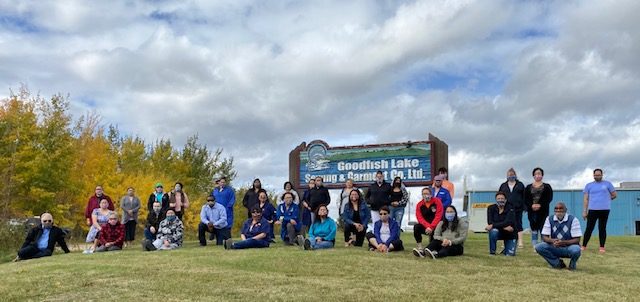 "When I came back to Alberta, the most noticeable change has been the growth of First Nation owned businesses – there's everything now," says Jackson.
"Goodfish/Whitefish has a total membership of 2400 with nearly 1800 who call the reserve home.
"This high percentage of people on reserve speaks to the amount of opportunity our members have in and around the nation."
Over the years, Jackson said, many members have lived in and around Fort McMurray and been employed by the energy sector, says Jackson.
Jackson spent time mining uranium in Saskatchewan, coal in British Columbia, and working for the Saskatchewan Wheat Pool in his long and winding career, which made him a perfect fit to come back to lead his community's business corporation.
Jackson said the most impactful role he had, however, was when he worked for English River First Nation in Saskatchewan as CEO of their construction company.
"Being CEO at that company taught me how to work with industry in a way that creates positive relationships for both First Nation and industry partners."
It was that position as CEO at English River that ended a four-decade journey for Jackson, which heralded his return home to Goodfish/Whitefish to lead this company.
"I started in February and only a few weeks into my role as CEO, COVID-19 hit, and our community responded extremely well," he says.
Goodfish Lake Business Corporation is comprised of its cattle ranch, one of Canada's largest dry-cleaning and laundering facilities, and its garment facility – Goodfish Lake Garment Manufacturing. That facility has partnered with energy giant Syncrude and Suncor for 30 years producing overalls and coveralls for their workers.
In response to the global health crisis, the garment facility pivoted to manufacture several different models of non-medical cloth face masks, which have benefitted not only Jackson's community, but the neighbouring Kikino Métis Settlement and other First Nations as far away as British Columbia.
"We have created over 250,000 masks with the majority of them going to our partners at Suncor and Syncrude, but also have benefited Alberta's school children, and our neighbours at Beaver Lake First Nation and Kikino [Métis Settlement]," Jackson said.
"We didn't have to lay anyone off due to COVID-19, rather, in order to fulfill these new retail orders, the garment factory hired new staff and paid a lot of overtime in order to meet this new demand."
Jackson, with some pride, says the garment facility employs over 100 workers, over 90 per cent of whom are Indigenous, not only from Goodfish/Whitefish but neigbouring communities as well.
One of those workers who has played a key role in making the protective masks is a veteran of the community's garment facility, Vivian Jackson, a member of Goodfish/Whitefish First Nation.
"We take pride in knowing that we are helping others in our community and within the energy industry," says Vivian, who's the garment facility's assistant manager.
"Oil and gas has supported us and our community and I am very proud to know that my work is helping people across Canada."
She remembers her first day in 1983, when the garment factory occupied several rooms in the old schoolhouse. The operation now occupies a 10,000 sq ft building with dozens of workers.
The energy industry, she says, has provided her with steady and continuous employment at the facility for nearly 37 years.
"Syncrude has always been a customer of ours and has helped my family pay off many things in our life," Vivian says.
"And my daughter, who works at the band office, and son, who is a nine-year red seal millwright who works in energy, have had the chance to do whatever they want in their career."