It's been just over a year since noted Canadian environmentalist David Suzuki mused about an escalation in tactics by anti-oil and gas activists that could ultimately see "pipelines blown up." 
While that extreme outcome has thankfully yet to occur here, his comments – for which he later apologized – turned out to be somewhat prophetic in 2022. 
Since Suzuki's remarks, which he blamed on "extreme frustration," there has been a clear uptick in extreme measures and eco-terrorism used by opponents of the oil and gas industry in Canada, as well as globally. 
From the fiery destruction of vehicles owned by an RBC executive in suburban Montreal to a violent armed attack on a Coastal GasLink worksite in B.C. that terrorized workers, activists are embracing increasingly dangerous tactics that not only threaten Canada's economic health, but the safety of the public as well. 
Unquestionably, the largest flashpoint for activists engaging in illegal action in Canada has been the 670-kilometre Coastal GasLink project, which has now reached about 80 per cent completion. 
In February 2022, a group of 20 masked attackers, wearing camouflage gear and wielding axes, attacked a work camp near Smithers, B.C., about 1,100 kilometres northwest of Vancouver. 
According to RCMP, the attackers forced workers to flee the site before going on a destructive spree, destroying millions in equipment and infrastructure. Police rushing to the scene had to contend with makeshift barricades, felled trees, wire and spiked boards, with assailants throwing smoke bombs and fire-lit sticks at them as they tried to reach the camp. One officer was injured. 
"This is a very troubling escalation in violent criminal activity that could have resulted in serious injury or death," said B.C. RCMP North District Chief Supt. Warren Brown following the incident. 
"This was a calculated and organized violent attack that left its victims shaken and a multi-million dollar path of destruction. While we respect everyone's right to peacefully protest in Canada, we cannot tolerate this type of extreme violence and intimidation." 
A zine published by anarchist website mtlcounterinfo.org defended the violence while encouraging similar direct actions in the future. 
"Retrospectively it seems clear that the purpose of the axes was to drive these forces away from the site and thereby minimize the amount of physical conflict involved with carrying out the action," the anonymous authors wrote.  
"In regards to property destruction we would argue that a diversity of tactics in the struggles which includes both non-violent disobedience and property destruction is necessary."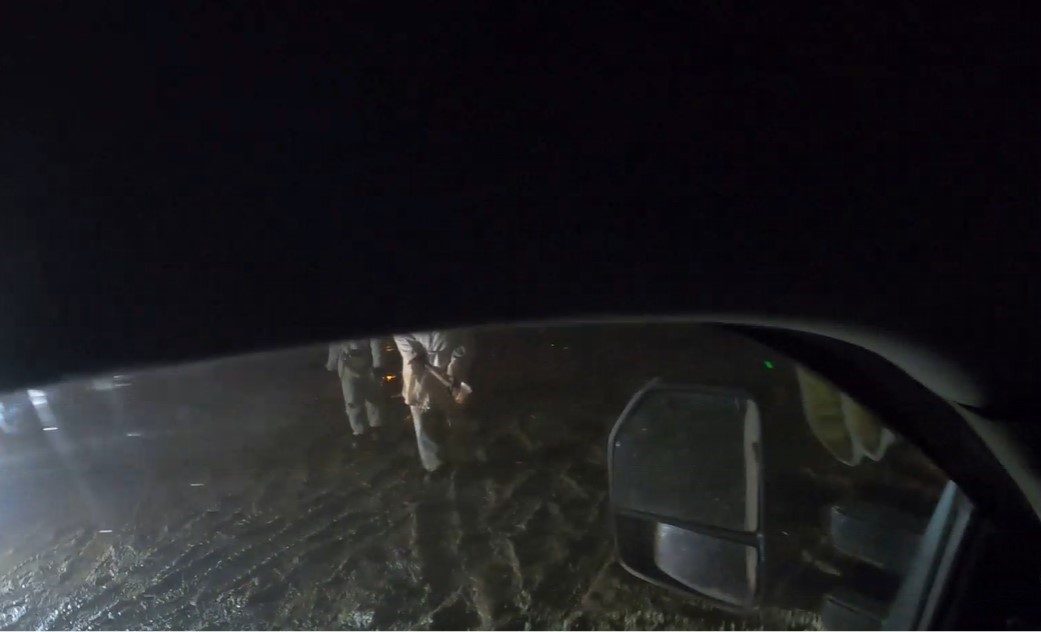 No arrests have been made nearly a year later, despite a $100,000 reward offered by industry for information that leads to charges against the attackers. 
In the months that followed the violent attack in B.C., two RBC executives in Quebec saw their homes targeted by activists, with one blasted with paint from a fire extinguisher, and another that saw several cars torched in the driveway of a suburban home with what anarchists was done in "the spirit of vengeance."  
Activists also vandalized several banks across Canada, sabotaged railway track circuitry, blockaded key rail infrastructure, and broke into a drilling contracting company in Calgary before destroying equipment. 
In October, several vehicles, including four RCMP cruisers and an ambulance, were set on fire in parking lot of the Sunshine Inn in Smithers, with anarchists later claiming responsibility for the arson in an anonymous post that boasted, "Burning cop cars is easy." 
"We must all sharpen our pain into the determination necessary to act against those responsible for our suffering," they wrote.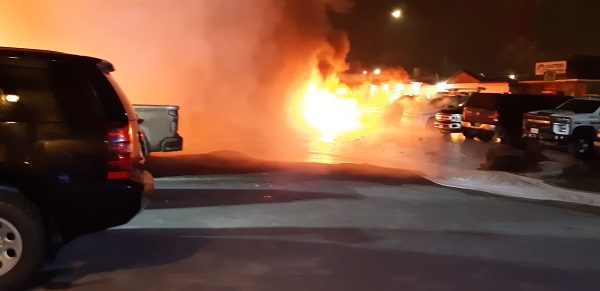 Canada is not alone in seeing a surge in violent action by those claiming to be acting in defense of the environment. 
In France, police reported no fewer than 104 acts of eco-terrorism undertaken by environmental and social justice activists between the beginning of 2022 and Oct. 30 of last year, according to Le Figaro. Anarchists targeted everything from telecommunications infrastructure to windfarms in an effort to defy "the electrical order." 
Whether by happenstance or design, the increasingly violent actions by campaigners coincides with what the International Energy Agency has deemed the world's first truly global energy crisis. 
As European nations look for alternatives to Russian energy, the reality is oil and gas remain critical pillars of the global economy, and will for many decades to come. That reality has led to a massive boom in demand for liquefied natural gas in Europe and Asia, which will ultimately be the product added to the world's supply when Coastal GasLink – along with the LNG Canada export terminal – come online. 
Coastal GasLink has also been a boon for Indigenous communities, with all 20 elected First Nations governments along the route signing benefit agreements and 16 Indigenous communities along the pipeline route agreeing to a 10 per cent ownership stake in the pipeline when it's completed. 
Canada's oil and gas sector is a world leader in environmental excellence, social responsibility and governance standards and is seen by European leaders as a supplier of choice. Canadian LNG also has the ability to make a measurable difference in lowering global emissions by helping replace coal-fired electricity in Asia. 
And while the demand for oil and gas remains strong, the alternatives to Canadian resources are often regimes that abuse human rights and deny freedom to their people. In 2020, about half of the global oil and gas production comes from nations that are considered tyrannies or autocracies, making Canada among the one-third of world producers considered to be free. 
As for Suzuki, he remains frustrated. 
In October, nearly a year after he warned of pipelines being blown up, the octogenarian activist crashed a tourism press conference in Vancouver, complaining that the federal government isn't doing enough to address climate change to encourage tourism. 
He reportedly left the event in a seaplane.  
The unaltered reproduction of this content is free of charge with attribution to Canadian Energy Centre Ltd.