Canada's oil and gas industry continues to increase spending to reduce its environmental footprint and improve cost competitiveness.
Major companies spent a record $1.6 billion on research and development in 2019 – or the equivalent of about $43 for every Canadian – according to the latest ranking by Research Infosource.
That's an increase of about $400 million compared to the previous record, which was set in 2018.
"It continues to go up, and we're not surprised because of the level of effort that these companies are putting into trying to find solutions to some of the environmental issues that they're facing, and also to lower their costs," says Jared Dziuba, analyst with BMO Capital Markets specializing in environmental, social and governance (ESG) issues.
"It's positive in terms of the trend, and the progress we'll probably see in terms of the performance numbers."
In the oil sands, increased R&D spending has helped producers reduce greenhouse gas emissions intensity, freshwater use intensity and land footprint, as well as started reductions in tailings accumulations.
Oil sands GHG intensity is likely much lower than previously thought, according to a December 2020 study by researchers from the University of Calgary, Stanford University, and the University of Toronto.
They found oil sands upstream emissions intensity to be up to 35 per cent lower than previous studies, when they used Alberta-specific data for natural gas inputs rather than the US data that was previously modeled.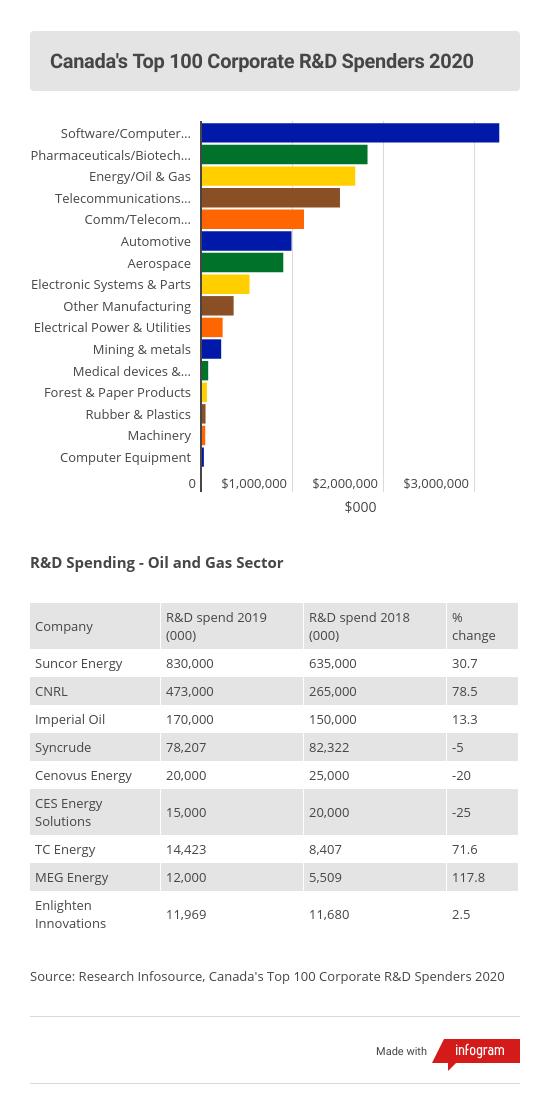 Emerging technologies like solvent-based production processes can reduce emissions intensity by a further 14 to 19 per cent, the researchers found.
Oil sands projects have demonstrated a trend of GHG emission intensity improvements over time as more efficient facilities have grown output and newer, less intensive forms of extraction have come online. In 2018, analysts with IHS Markit found that more efficient and newer forms of oil sands production had life cycle GHG emissions that are below the US average.
2019 R&D
In 2019, oil and gas sector R&D was second only to spending by software/computer services companies ($3.3 billion) and pharmaceuticals/biotechnology ($1.8 billion).
Suncor Energy ranked number two in Canada overall, with $830 million in technology spending compared to auto parts manufacturer Magna International's $849 million.
Suncor's investment – an increase of about $200 million from 2018 – supported work including solvent-based oil sands processes designed to significantly reduce water use and GHGs, as well as efforts to reduce downstream emissions, implement digitalization strategies like drones and remote sensing, and investment in cleantech accelerators like Evok Innovations.
Canadian Natural Resources came in at number two in the oil and gas sector, with $473 million in R&D in 2019 (up from $265 million in 2018). That investment supported projects including the company's in-pit extraction pilot, which could enable oil sands mining production without fluid tailings and reduce GHG emissions by 40 per cent.
Dziuba expects the increased spending trend to continue, although there's likely to be a dip reported for 2020 because of the COVID-19 pandemic.
"There are a number of these companies that just have a steady state amount of R&D capital that goes into the business. Imperial oil, for example, has a long history of spending between $100 million and $200 million every year, regardless of what's going on," he says.
"I think the trend in R&D spending for the sector, which has averaged roughly $1.1 billion and led the global industry over the past decade, is likely to continue over the medium and longer-term, especially as oil prices recover."