Oil sands producers got a bigger-than-expected boost in their efforts to decrease greenhouse gas emissions intensity in 2018, according to new analysis by global business information firm IHS Markit. The improvement was delivered by strong performance from oil sands mining projects, led by standout new facility Fort Hills, operated by Suncor Energy.
Emissions intensity measures emissions per unit of output rather than total emissions, allowing for more detailed analysis of operational efficiency and the progress of technology development.
The GHG emissions intensity of oil sands mining dropped by 10 per cent from 2017 to 2018, IHS Markit says.
"The scale of the mining reduction in 2018 was a bit of a surprise," says IHS Markit vice-president Kevin Birn.
The reductions by mining projects contributed to an overall decrease in oil sands GHG emissions intensity of 2 per cent in 2018, giving added weight to the ongoing trend of overall emissions intensity reductions.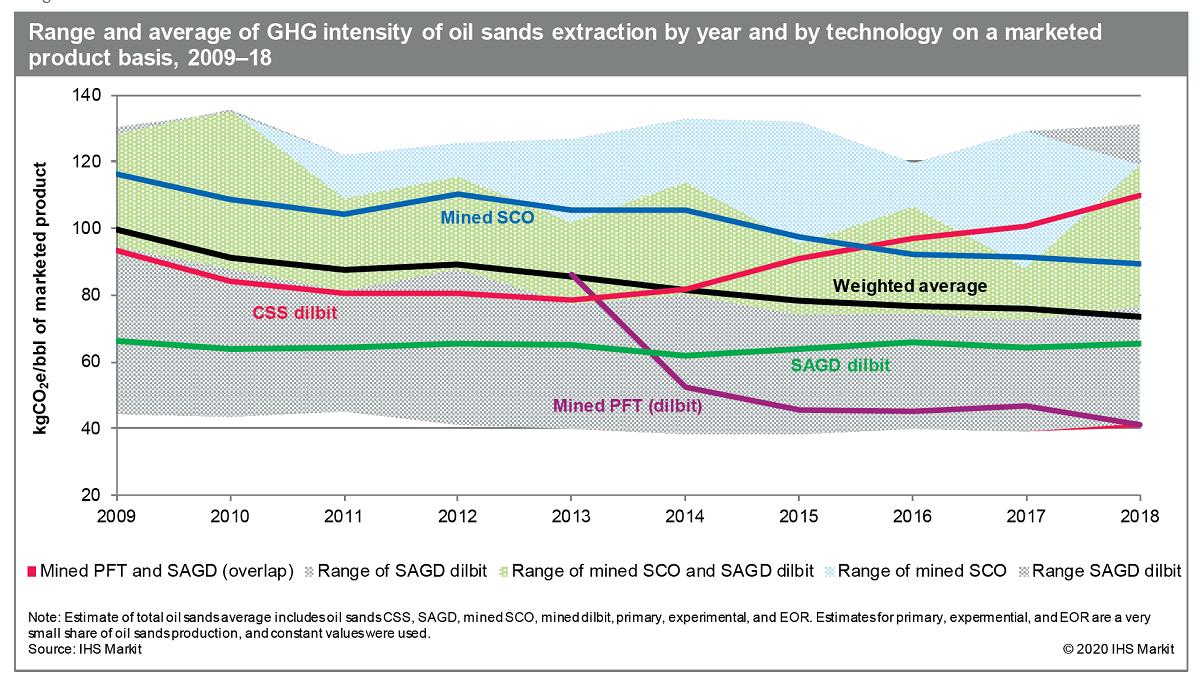 IHS Markit reports that since 2009, the weighted average emissions intensity of oil sands projects has fallen by 20 per cent, from 88 kilograms of carbon dioxide equivalent per barrel (kgCO2e/bbl) to 70 kgCO2e/bbl.
This assessment is supported by Environment and Climate Change Canada, which in its 2020 National Inventory Report says that oil sands emissions intensity has declined steadily from 97 kgCO2e/bbl in 2005 to 78 kgCO2e/bbl in 2018.
Birn explains that IHS Markit tracks a wider set of emissions, which is the reason for the differences in intensity compared to the NIR.
The significant decreases achieved in oil sands mining in 2018 helped offset a modest increase for thermal, or drilled, production as a result of a couple of GHG-intensive outliers, IHS Markit said.
Click here for a comprehensive new report by CEC Research about Canada's GHG emissions intensity.
Mining projects deliver results
While a sizeable reduction in GHG emissions intensity in 2018 was expected because of Fort Hills, which started operating late in 2017 and uses less-intensive processing technology, the project ramped up to full production more efficiently than expected. Improvements were also achieved at the older oil sands mining facilities.
Between 2017 and 2018, total oil sands mining production increased by approximately 80,000 bbls/d, according to the Alberta Energy Regulator. At the same time, IHS Markit reports the weighted average GHG emissions intensity per barrel decreased by 10 per cent, from 82 to 75 kgCO2e/bbl.
"They're finding a way to increase output, typically through more reliability, and with that they're not necessarily requiring more energy to do it," Birn says.
In addition to Fort Hills, IHS Markit reports that four out of five legacy oil sands mining operations realized reductions in emissions intensity in 2018. The overall reduction was the second greatest year-on-year drop in the estimated history of oil sands mining operations; the largest was a 12 per cent decrease between 2014 and 2015.
Tim McKay, president of major oil sands producer Canadian Natural Resources, says there are "multiple pathways" for it to achieve significant further reductions at its mining projects.
"With its long life, low decline and its manufacturing like operations, [oil sands mining] can have one of the clearest, if not the clearest route, to net zero of any global oil asset," he said.
This could include deployment of a new technology Canadian Natural is currently piloting that would move the oil sands extraction plant directly into the mine pit rather than at a centralized facility connected by pipelines.
The technology, called in-pit extraction, is expected to reduce GHG emissions intensity by 40 per cent, as well as eliminate tailings ponds and reduce operating costs.